About Us
Welcome to Alexgraphics's homepage!
Alexgraphics is a webdesign team with fresh ideas.
We're passionate about webdesign and online marketing. We can help you make the most of this powerful marketing tool with effective business solutions that work.
We are more than just a website design and development company. The good website is useless if it doesn't reach the right results.
The Internet has opened up a world of opportunity for businesses. Our webdesign process is also focused on your investment.
We're based in Budapest (Hungary) and Budapest (England).
Kindest regards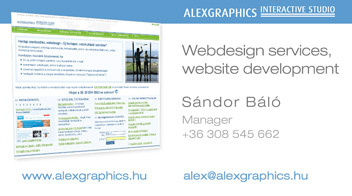 We've worked already together
MORE INFO ABOUT OUR SERVICES